CHURCH OF SCIENTOLOGY
PERTH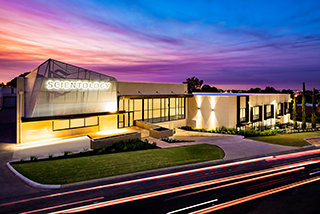 It is with great pride we welcome you to our Church.
Since 1960, we have served a growing congregation in Perth. Today, from our new home along Swan River, we are honoured to extend our help to communities across Western Australia.
Our Church realizes Scientology Founder L. Ron Hubbard's vision that all Churches of Scientology become what he termed Ideal Organisations (Orgs). Ideal Orgs not only provide the ideal facilities to service Scientologists on their ascent to higher states of spiritual freedom, but they also serve as a home for the entire community and a meeting ground of cooperative effort to uplift people of all denominations.
To that end, we share our Church and our many social betterment and humanitarian programmes with this region.
We look forward to working with every group and individual dedicated to uplifting society in the same spirit that enabled Perth to evolve into a world-class city renowned for its achievements and cultural opportunity.
Together, we can achieve our common dream of a civilisation without insanity, without criminals and without war, where the able can prosper and honest beings can have rights, and where Man is free to rise to greater heights.
GRAND OPENING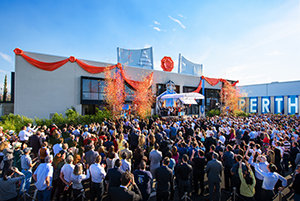 Take the most remote major city in the world, sandwiched between largely empty vistas of oceans and deserts; add in wave after wave of hardy and hearty pioneers from England, Scotland, Italy, China, Vietnam, Greece and a score of other ethnic homelands; cook all of that in with the gung-ho, can-do spirit of Down Under; throw in battalions of gold prospectors and diamond miners; sing a couple of bars of Waltzing Matilda, add a kangaroo or two and you have the setting for the planet's newest Church of Scientology: Perth, the capital and largest city in Western Australia.
The new light in this "City of Lights" is just one block away from the Great Eastern Highway, a mere fifteen minutes from the Perth city centre and located by the famous Swan River that is home to the majestic black birds after which the river is named. It is here more than 1,000 Scientologists and their guests—some crossing thousands of miles to reach Perth—gathered on Saturday, May 5, 2018 to celebrate the grand opening of a new Church of Scientology.